A Head-to-Head Comparison: WordPress vs Squarespace
When it comes to deciding between Squarespace and WordPress, many people often struggle to make sense of the two. Each of these platforms has the capacity to help you develop attractive and functioning websites. However, there are significant differences between the two in terms of how they go about building sites and the features and tools they offer. For this reason, it's a good idea to do some research on these platforms before making any decisions. In this article, we'll walk you through these two popular website-building solutions.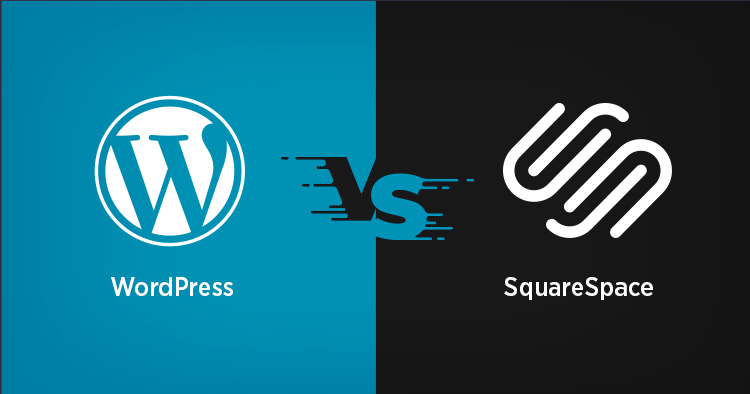 Overview
Squarespace and WordPress are two of the best options for small businesses looking to establish an online presence.
Squarespace, a fully hosted website builder, has long been lauded for the quality of its templates and responsive customer service. It features a WYSIWYG (What You See Is What You Get) website builder and its own set of tools. Users can swiftly and effortlessly design and manage elegant, fully functional websites using the Squarespace dashboard.
On the other hand, it's no secret that WordPress is the most popular Content Management System (CMS) because of its high level of customization options and massive user base. Easy-to-use features make it an excellent choice for users at any skill level, from beginners to seasoned veterans.
Pricing
The price is a major consideration when deciding on a website building platform. You need to know exactly how much you'll have to pay for this service in the long and short term.
WordPress
WordPress is a free, open-source software that can be installed, hosted, and managed by anyone. However, recurrent expenses, like web hosting, a domain name, and subscriptions to themes or plugins, are required to keep a WordPress website up. These costs vary depending on the site. In other words, despite being billed as a free service, WordPress does come with a variety of additional fees.
Squarespace
Meanwhile, Squarespace is a premium Software-as-a-Service (SaaS) platform, and customers are aware that it is not free when they sign up. Users should anticipate to pay a minimum of $12 per month, invoiced annually, and an additional fee of $40 to use each of Squarespace's other features. Website owners can select from various plans and pay according to the features they want to include on their websites.
Ease of Use
When deciding on a platform, it's vital to consider how simple it is to use. This covers the time required to become comfortable with the platform and the ease with which it may be used for day-to-day operations.
WordPress
WordPress is a bit challenging to learn, and making a website is not a task that can be completed in five minutes. The good news is that WordPress can be customized to meet your specific needs once you've mastered its functionality and features.
Here are some of the ways you can customize a WordPress site:
Coding: Using programming languages like HTML, CSS, JavaScript, and other languages, developers and designers can make changes to every component of a website with this platform.
Drag-and-drop editor: WordPress features a drag-and-drop page builder for those who aren't experts in coding. This allows you to easily change layouts, objects, and design elements in your website.
Live customizer: Almost all WordPress themes take advantage of the easy-to-use WordPress Customizer
WordPress lets you choose the approach that best matches your requirements.
Squarespace
It's easy to set up a simple website on Squarespace, which is perfect for those just getting started with web design. It features a drag-and-drop website builder that lets you pick a template, customize it, and then launch your site.
You can edit the appearance of a page by adding, moving, and deleting images and sections and changing the colors, fonts, and layouts. Squarespace's website-building tools do have certain limitations, of course. As a result, the platform may frustrate people who already have a concept for their website.
Design and Features
WordPress and Squarespace offer features that allow anyone to create a great website, regardless of technical or design expertise. User experience, on the other hand, is greatly influenced by how website creation platforms carry out these features.
WordPress
Themes, plugins, and widgets make up the foundation of WordPress. Each performs a specific job in the overall performance of your website. WordPress sites stand out from other content management systems because they make the most out of their unique strengths and characteristics.
Themes are the core of WordPress, providing both a visual and functional framework for a website. You can choose from thousands of themes, both free and premium. It doesn't matter what sector or niche you're in, there is a theme out there for you. After that, you'll be able to make several changes to your theme, including using content blocks.
In contrast to themes, plugins are basic applications and scripts that provide new functionality to a website. They can be obtained for free through the WordPress repository or purchased from respected plugin developers. As such, when new features are needed, you can quickly integrate them into your website.
Using WordPress's widgets, you may access and show all your site's functions. Widget areas are portions of the WordPress site that can be customized on both the front-end and back-end and can be configured to do pretty much anything.
Squarespace
Squarespace features plenty of gorgeous templates. Users can easily choose a template that works for them and then add their own content without having to worry about the nuances of design. As such, those without design experience can effortlessly use the platform.
When it comes to widgets and plugins, Squarespace is a bit different. Unlike WordPress, Squarespace doesn't allow you to play with every aspect of your site. They made the platform in such a way that you wouldn't have to worry about any of it.
The Bottomline
When deciding between WordPress vs Squarespace, it all boils down to what you are looking for in a website, how much budget you can spend, and how much expertise you have in creating websites. While our preferences lean towards WordPress, we think both are great options.
In this article, we've covered the differences between each platform in-depth. We hope that this information can point you in the right direction.